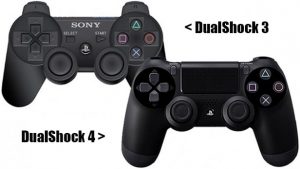 Did you know you can use a PS3 DualShock® 3, PS4 DualShock® 4 or PlayStation® Move controller on your Android box or phone. Gaming on Android boxes is a much more pleasant experience nowadays, especially considering the price of devices that have 3 to 4 gigabytes of RAM and powerful multi-core processors clocking up to 1.8 GHz! These new chipsets put previous generations to shame when it comes to raw performance for gaming.
I love the PS3 and PS4 DualShock® controllers for their durability, comfort and tactical layout.
If you're looking to pick up a top notch Android TV box you'll want to get your hands on this Royal Beast, check out the Beelink GT-King.
Quick Links: PS4 Controller Android | PS3 Controller Android | Wired Connection
Connecting your PlayStation® controller to your Android box, phone or tablet is actually quite simple, just make sure your Android device has bluetooth capability and follow the steps below. If your device doesn't have bluetooth you can still use it with your Android TV box, scroll down for instructions.
Connecting a PS4 Controller to your Android box, Phone or Tablet
PS4 controllers can connect natively to most devices with bluetooth, without having to install any 3rd party apps:
Press and hold the PS and Share buttons at the same time until the lights begin flashing.
Open the Settings app on your Android device (All Apps > Settings on your Android box)
Click on Bluetooth under Wireless & Networks or Device Connections depending on your device
If bluetooth is not turned on, enable it and wait for it to scan for devices
In the list of found devices click on Wireless Controller
A box will pop up to verify your choice, click Pair or Confirm
All done, exit back to the home screen and start playing your favorite games with your PS4 controller.
To make your life easier I suggest you install Bluetooth Auto Connect to avoid issues syncing your controller.
Connecting a PS3 Controller to your Android box, Phone or Tablet
Pairing a PS3 controller is slightly more involved since it uses a proprietary version of the bluetooth protocol. To get around this you just install an app which allows you to clone the bluetooth address of your Android device to the PS3 Sixaxis or DualShock controller. Here's the process:
1. Install the Sixaxis Controller app: Sixaxis Controller
2. Connect your PS3 controller via USB cable
3. Open Sixaxis Controller and click on Pair Controller button and then click Pair (You only have to do this once)
4. You should see "Master address updated" on the right side of the screen. If you see a failed message that means your bluetooth chip is not compatible.
5. Press the Start button in Sixaxis Controller. If successful you will see:
Successfully configured bluetooth
Listening for controllers…
6. Disconnect the USB cable and press the PS button in the middle of the controller. When the lights go from blinking to a single solid light you will see the message:
Client 1 connected [Battery status: Charging]
Client 1 battery status: High
To add more PS3 controllers just press the PS button. Next time you want to connect your controller(s) just open Sixaxis Controller and press Start then power your on controller(s).
Congrats, you did it! Enjoy your awesome PlayStation® controller on Android!
Sixaxis Controller App Compatibility
PlayStation 3:
Sixaxis Controller
DualShock® 3 Wireless Controller
PlayStation® Move Navigation Controller
PlayStation 4:
DualShock® 4 Wireless Controller
Setting your controller up with a wired USB connection
If your Android TV box doesn't have bluetooth support you can still use your PS3 or PS4 controller wired via USB cable by installing the Sixaxis Enabler app. The app currently costs $2.99 but it's well worth it if you want to game in style on your Android TV box.
* DualShock and PlayStation are trademarks of Sony Interactive Entertainment. This company is not affiliated with Sony Interactive Entertainment in any way, shape or form.